Discovering History: Ston Ancient Walls, A UNESCO Heritage Site in Dalmatia
Posted on December 12, 2022 • 6 minutes • 1208 words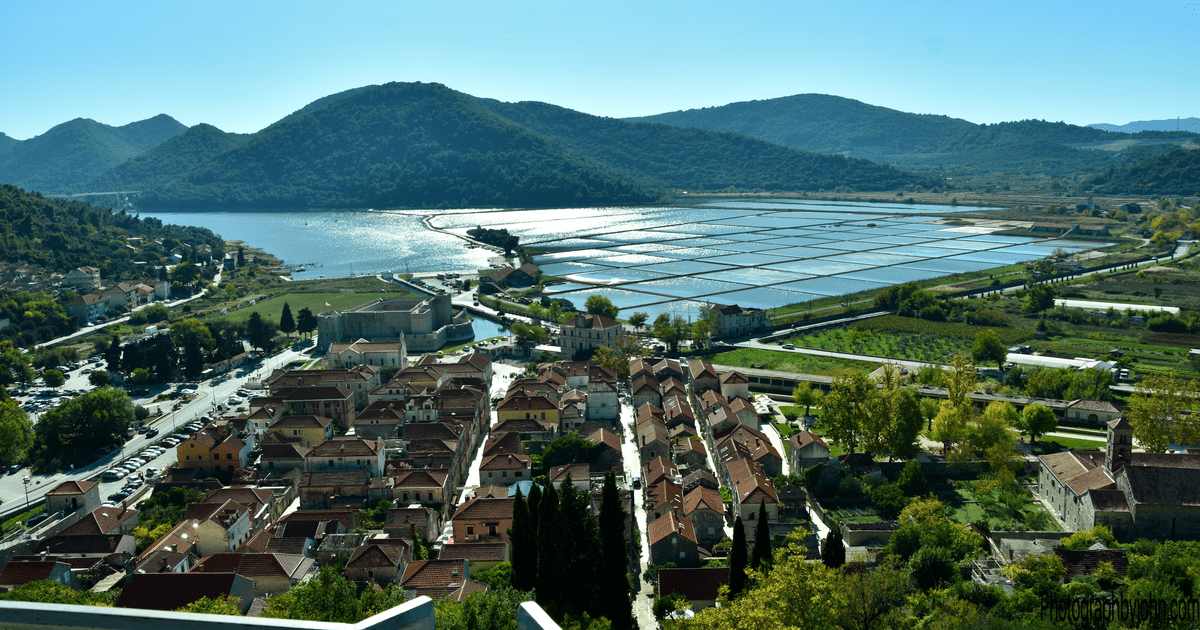 [Holiday stay](#holiday stay)
The history
Ston is a town in Dalmatia, a region of Croatia on the Adriatic Sea. It is located at the mouth of the Neretva River and is known for its salt production and its large medieval fortress wall.
Ston has a long history dating back to ancient times. In the 4th century BC, the area was inhabited by the Illyrians, an Indo-European tribe that lived in the Balkan area. In the 3rd century BC, the area was conquered by the Romans, who made it part of the province of Dalmatia.
During the Middle Ages, Ston became an important trading center and was surrounded by a fortress wall that is still well preserved to this day. The wall, which is about 5 kilometers long, was intended to protect the inhabitants of Ston against attacks by pirates and other enemies.
In the 14th century, Ston was taken over by the Venetians, who ruled the area for over 400 years. During this period, Ston became an important center for the region's salt production, contributing to the town's economic prosperity.
In the 19th century, Ston became part of the Habsburg Monargy and later the Kingdom of Yugoslavia. After World War II it became part of the Socialist Federal Republic of Yugoslavia and since 1991 it has been part of Croatia.
Today Ston is still known for its salt production and is a popular tourist destination due to its beautiful nature, historical heritage and tasty Mediterranean cuisine. Meer over deze brontekstBrontekst vereist voor aanvullende vertaalinformatie Feedback sturen Zijvensters
Culinary enjoyment
But in addition to the historical sights, Ston also offers a wide selection of restaurants where you can enjoy delicious local dishes.
One of the most popular restaurants in Ston is "Konoba Stonska Kula". Housed in an old fortress, this restaurant serves authentic Dalmatian dishes, such as grilled scampi and pasticada, a traditional beef stew. The ambiance is intimate and the service is friendly and attentive.
Also "Konoba Dvori" is recommended for those who are looking for traditional dishes. This restaurant is located in a beautifully restored house and serves delicious pastas and grilled fish, among other things. The area is quiet and perfect for relaxing after a day of sightseeing.
For those looking for something more modern, "Restoran Oaza" is the perfect place. This trendy restaurant serves dishes with a modern twist on traditional Dalmatian specialties. For example, try the grilled octopus with arugula and lemon. The wine list is also extensive and offers a wide selection of wines from the region.
If you are looking for a tasty snack while walking the walls of Ston, "Pasticceria & Caffe Bar Ston" is the perfect place. This small cafe offers all kinds of treats, such as pastries and sandwiches, and is a popular place for locals to meet.
Ston offers a wide selection of restaurants where you can enjoy delicious local dishes. Whether you're looking for traditional dishes or something more modern, there's something for everyone. Taste the flavors of Dalmatia and be surprised by the varied kitchen of Ston.
Vacation stay
It is a popular holiday resort for those looking for a quiet and relaxing stay, with beautiful nature and a rich history. If you're considering lodging in Ston, here are some things to keep in mind.
Firstly, it is important to choose a good hotel. Ston has a number of nice hotels with beautiful sea views, including the Hotel Villa Ston and the Hotel Adriatic. Both hotels offer comfortable rooms and a wide range of facilities, such as a swimming pool, a spa and a restaurant.
If you prefer to stay in an apartment or villa, there are also plenty of options in Ston. There are several rental companies that offer apartments and villas, including Apartment Ston and Villa Ston. These accommodations offer more privacy and space than a hotel room, and are often cheaper per night.
Another point to take into account when staying overnight in Ston is the location. Ston is located on a hill and is surrounded by beautiful countryside, so if you like walking there are plenty of beautiful routes to discover. The village is also close to the popular seaside resort of Dubrovnik, so if you want to visit the city, it is easy to do so from Ston.
Don't forget to try Ston's local specialties during your stay. The city is known for its salt production, so salt products such as the Ston oyster are a must-try. There are also tasty wines to taste in the local wine cellars and restaurants, and there are several markets where you can buy local products.
In general, Ston is a wonderful place to stay if you are looking for a quiet and relaxing holiday. It offers beautiful nature, good food and a rich history, so if you are heading this way, it is definitely worth staying here for a few days.
Recreation
The city is best known for its long wall that encircles the city, which once served as a defense against enemy invasions. The wall is now a popular attraction for tourists visiting the city.
In addition to viewing the wall, there is plenty to do in Ston for recreation enthusiasts. For example, you can go hiking or cycling along the beautiful coastline of the Adriatic Sea. It is also possible to dive or snorkel in the clear waters of the sea.
There are also several restaurants and bars in Ston where you can enjoy the local specialties and wines. In addition, there are also several shops where you can buy souvenirs to immortalize the visit to this beautiful city.
In the vicinity of Ston there are also some interesting sights to visit, such as the historic town of Dubrovnik and the island of Korčula. So if you are looking for a nice holiday destination with plenty of recreational opportunities, Ston is definitely recommended.
Salt from Ston
The town of Ston in Dalmatia, Croatia is known for its salt pans. These pans date back to Roman times and have a long history of salt production.
The salt pans of Ston are located on the sea and are fed with salt water from the Adriatic Sea. The water is collected in large basins and then poured into smaller pans for cooking. Boiling causes the water to evaporate and only the salt remains.
The salt produced in Ston is used for culinary purposes, as well as for the production of cosmetics and medicines. It is of high quality and contains many minerals that are good for health.
Visitors can tour the salt pans and learn about the process of salt production. There is also a museum in Ston dedicated to the history of the salt pans and their importance to the town.
A visit to the Ston salt pans is definitely worth while on holiday in Dalmatia. It is a unique and interesting piece of history worth exploring.
❤️❤️❤️ Would You Like to Support Me? ❤️❤️❤️ If you enjoy this content and would like to support my efforts in creating more free prompts and articles, you can do so at Patreon.com. Your support is greatly appreciated and will enable me to continue providing valuable content. Thank you!