Relive the Glory of the Past: A Gladiator Show at Pula Arena
Posted on March 2, 2019 • 4 min read • 645 words
Step back in time and relive the glory of the past with a Gladiator show at Pula Arena. Witness the excitement and spectacle of ancient Rome. Book your tickets now!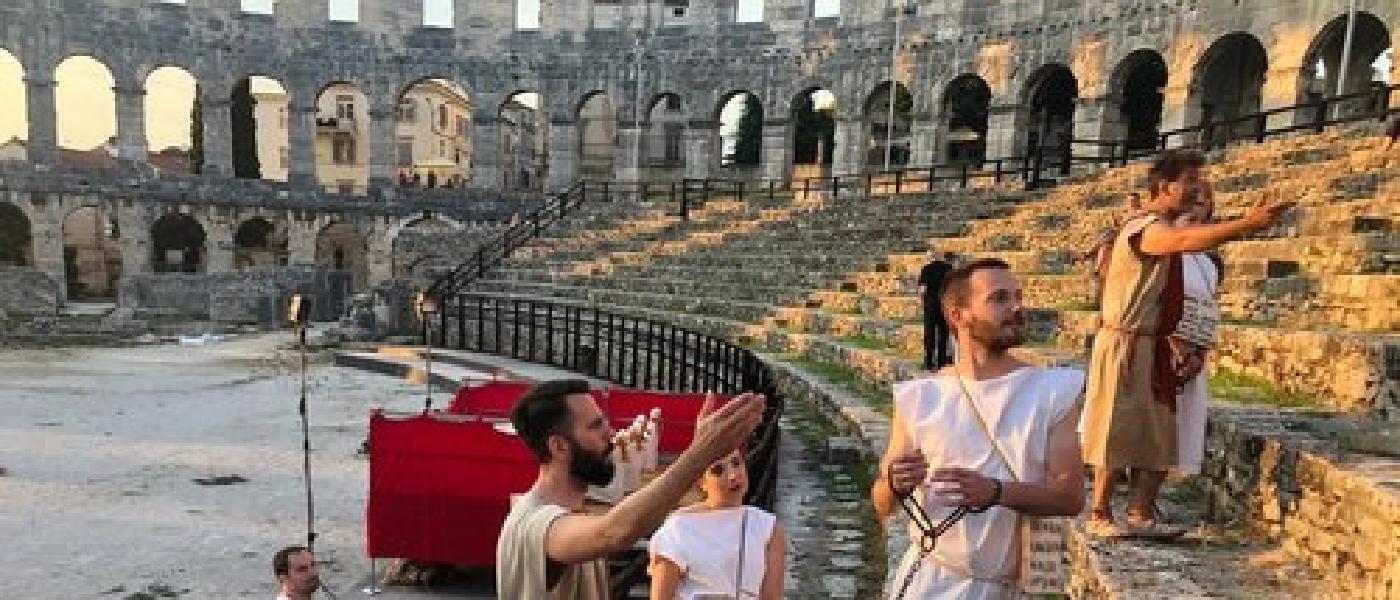 Our first visit to the gladiatorial show at the arena in Pula. having seen the training once, we were very curious about the show. And since it's not crowded yet in terms of tourism due to the Covid-19, we wanted to give it a try. We drove, they thought, "if it's too busy, we'll turn around." But the crowds were okay. When entering the arena it gave us an impressive feeling. Beautiful suits and costumes. Since we had seen part of a training 1 or 2 years ago, we were very curious….
Feeling safe:
It also made us feel safe upon entering. security at the entrance did their best to keep away the tourists who didn't listen. He kept asking please 2 meters distance between the groups/families. But few listened to this … alas … Things have changed in the ancient gallery. There was an employee of the Arena who came across very clearly and managed to get everyone apart. She was very clear. This was also listened to. Despite this constant management, people also wanted to sit a short distance away.
The narrator began with a kick-off. He is good and knows how to captivate an uninterested audience. He gets it right time and time again. It is also located in Svetvinčenat Castle. The show started. The praetor entered the arena with his wife and assistants and guards. It promised to be a great show. It started with a fire show. at first it seemed like they were doing it for the first time now. But it soon became clear. absolutely no choreography and even a man came in with no sense of rhythm. The women just seemed to be doing what they liked and occasionally doing the same thing. What a mockery. In fact, the show was so bad that I didn't even take the time to take many pictures. It's that I was there with my kids and they liked it because they don't go everywhere during this period. Otherwise I would have just walked away. The gladiators were about to begin. E had been waiting for this with high expectations. Because we had seen the training in an earlier period. But maybe because it was the first time of the show or the heat … the sensation didn't really splash. Even the narrator also started with the story of the weight of their suits. But if your gladiatorial school is world champion twice in a row, you would expect more. One party came after another. Sometimes it got tense, but that was often over quickly. My personal preference is Svetvinčenat Castle. The knights are just crazy about their fight, which makes it all seem much more real. And again the blue bird came from sesame street. Without a sense of rhythm, they try to put on another fire show. At one point he swung his chain of flames against his leg and then I thought, maybe there will be more concentration now. But unfortunately that didn't happen…. Maybe during the weekend festival in Svetvinčenat they should have watched the fire show which is celebrated once a year with the fire show from Hungary. There was tension and excitement and there you had no feeling of finishing a tune, but love for a beautiful show. Maybe I had too high expectations, but if I had to rate this show, it won't come out with high marks. Unfortunately ……
Security: 5 stars
Narrator: 5 stars
Fire show: 1 star
Outfits: 5 stars
Gladiator show: 3 stars
Would You Like to Support Me?
❤️❤️❤️ Would You Like to Support Me? ❤️❤️❤️ If you enjoy this content and would like to support my efforts in creating more free prompts and articles, you can do so at Patreon.com. Your support is greatly appreciated and will enable me to continue providing valuable content. Thank you!